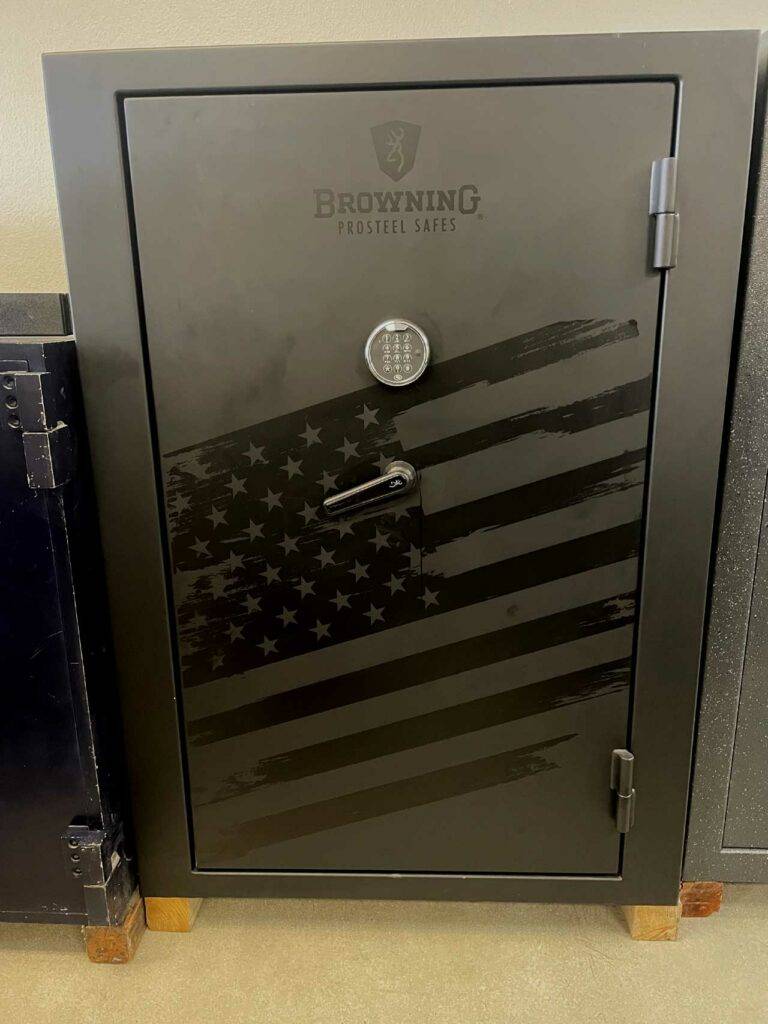 Browning Mark V Blackout MP49
58 1/4"H x 41"W x 24"D | 1 Hour Fire Rating
When it comes to safeguarding your cherished possessions and firearms, the Browning Mark V Blackout MP49 Safe is the embodiment of security and reliability. With precise measurements of 58 1/4″ in height, 41″ in width, and 24″ in depth, this safe is not just a robust guardian but a tailored storage solution for your needs.
Outstanding Fire Resistance: The Browning Mark V Blackout MP49 Safe offers an impressive 1-hour fire rating. In the event of a fire, this safe extends its protective coverage for a full hour, ensuring your valuables, whether firearms, important documents, or family heirlooms, remain unscathed.
Solid and Durable: Built to endure the test of time, this safe weighs a substantial 630 lbs, a testament to its unwavering security. Its sturdy construction adds an extra layer of safeguarding, providing peace of mind and deterring unauthorized access.
Spacious Interior: With dimensions of 58 1/4″H x 41″W x 24″D, the Browning Mark V Blackout MP49 Safe offers ample storage capacity. Its interior is customizable with adjustable shelves, allowing you to organize and secure your collection of firearms, documents, jewelry, and more.
Top-of-the-Line Security: Equipped with a high-quality locking system, your valuables remain accessible only to those with the authorized code or key. The thick steel door, anti-pry features, and robust boltwork ensure your possessions are securely protected.
Sleek and Timeless Design: The Browning Mark V Blackout MP49 Safe seamlessly combines functionality with aesthetics, featuring a polished exterior finish that complements any room or office decor. Its elegant design blends with its formidable strength, ensuring your valuables are stored securely and stylishly.