New & Used Safes Palm Desert
Don't Be a Victim, Get Protected!
Protect Your Valuables from Being Vulnerable to Theft
Don't Let Your Personal Belongings Be Vulnerable to Theft
Nobody wants to worry about their valuable items being stolen. But it's hard to ignore the constant thought of 'what if' when you don't have a secure way to protect your possessions.
It's time for you to get a reliable solution that will give you peace of mind and ensure your valuables are safe both at home and away from home.
Getting a new or used safe is the best choice for ensuring your valuables are safe, no matter the situation. They are tough and are made from fireproof steel construction that can endure nearly any disaster.
Additionally, many models come with or can come with a programmable electronic lock that will provide you with peace of mind, as you can be sure your important items are secure from would-be burglars.
Give us a call or come by our store front location in Palm Desert.
We have the largest in-stock selection of many popular makes and models including: Alpha Guardian, AmSec (American Security), Cannon, Gardall, Hollon, Liberty, Sentry, Cannon, TL, Eclipse, Bernardini, Burg Wachter…and more, call now!
Frequently Asked Questions
The Largest Selection in Coachella Valley
Fire
Burglary
Biometric
Floor
Wall
Jewelry
Fire Bank
Commercial
Depository
Fire
High Security
T.L Rated
U.L Rated
Cannabis
Professional Safe & Vault Services
Popular Makes & Models In-Stock Now
Alpha Guardian
AmSec (American Security)
Cannon
Gardall
Hollon
Liberty
Sentry
Cannon
TL
Eclipse
Bernardini
Burg Wachter
For premium safe services in Palm Desert
and The Coachella Valley, stop by our retail location
Important Things To Consider When Buying a Safe
Throughout the many years of the Safe Company's operations, we have realized that searching for the right kind of safe can be a challenge. There is no perfect safe, there's just the right safe for you. This is why we are devoting our knowledge and experience to answer questions, ensuring that you are getting the facts straight from people who know all about safes.
One thing about the industry is that it's easy to see a lot of safes that are nothing more than glorified thin metal boxes. They may look sturdy and safe, but they can't protect your valuables. There is a lot more safes to choose from than just a thin metal box. We specialize in Home Safes, Jewelry Safes, Gun Safes, Commercial Safes, and other related security products. We also offer various services, including safe repair, safe moving, and safe opening services.
What makes The Safe Company better than your average online safe store? For starters, we have a showroom located at 78206 Varner Rd, Suite B in Palm Desert, California, where you can easily see and even test products before committing to a purchase. We have technicians that can open your locked safe and will move your safe for you. We take our job seriously, and our job is to help you protect your most valuable possessions.
We have a long list of satisfied customers who can attest to our credibility and the quality of service we provide. The list includes residential and commercial customers all over the U.S. and we have served even state and federal agencies, large corporations, alongside individuals. Each customer who comes through our door or contacts us through our website are provided the best service possible in the industry. We are all licensed professional locksmiths and safes and security is our only business.
Frequently Asked Questions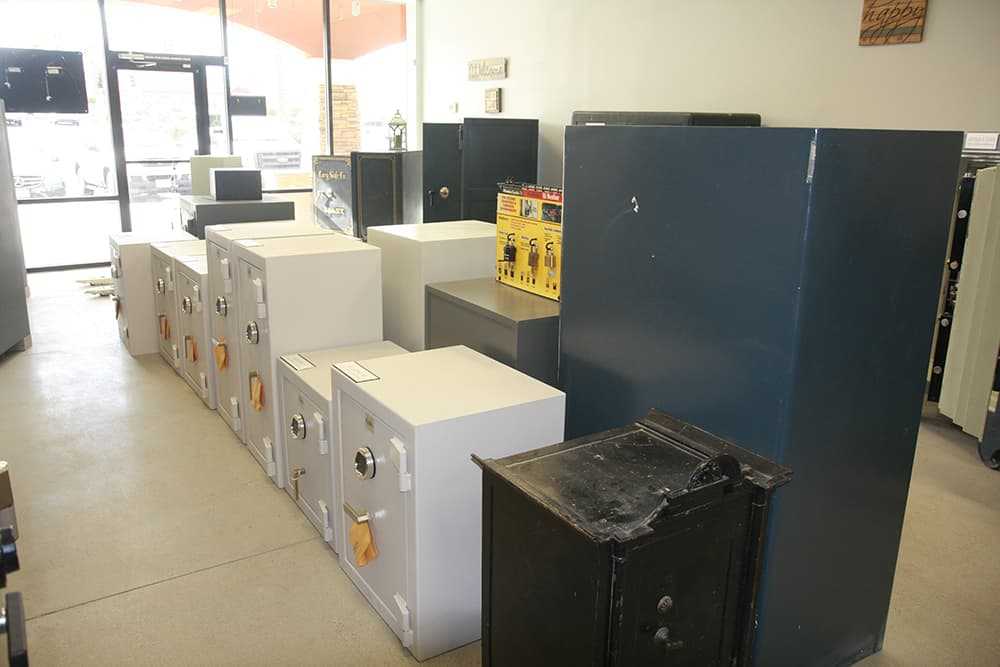 The Safe Company is the leading name in quality safe sales and installation, along with emergency locksmith services.
Our offerings include a wide variety of safes related services and products, including openings, repairs, complete installations, combination changes, moving, ATM opening, safe deposit box opening, new and used safe sales, residential and commercial safes and Ironclad safe sales.

CONTACT THE SAFE COMPANY ABOUT OUR SERVICES AND SAFES!
The Safe Company Offers professional palm desert locksmith services, safe opening, sales and installation. Our area of coverage includes Palm Desert, Palm Springs, La Quinta and the Coachella Valley. We are here if you ever have a problem related to safes.