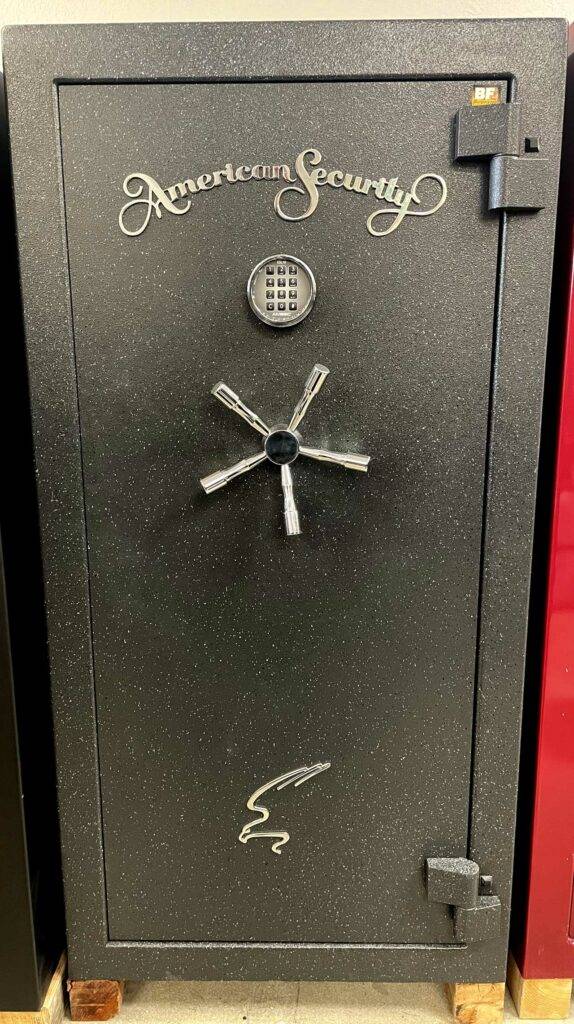 59 1/4"H x 30"W x 26"D | 90 Minute Fire Rating
When it comes to safeguarding your prized possessions and firearms, the American Security BF6030 Gun Safe stands as an unwavering fortress of security. With precise measurements of 59 1/4″ in height, 30″ in width, and 26″ in depth, this safe is not just a robust guardian but also a storage solution tailored to your needs.
Exceptional Fire Endurance: The American Security BF6030 Gun Safe offers an impressive 90-minute fire rating. In the event of a fire, this safe extends its protective embrace for an hour and a half, ensuring that your valuables, whether firearms, important documents, or cherished mementos, remain unscathed.
Unwavering Strength: Built like a fortress, this safe weighs an imposing 885 lbs, a testament to its unwavering security. Its formidable construction adds a layer of safeguarding, providing peace of mind and deterring unauthorized access.
Generous Interior Space: With dimensions of 59 1/4″H x 30″W x 26″D, the American Security BF6030 Gun Safe offers ample storage capacity. Its interior is customizable with adjustable shelves, allowing you to organize and secure your collection of firearms, documents, jewelry, and more.
Top-Tier Security: Equipped with a high-quality locking system, your valuables remain accessible only to those with the authorized code or key. The thick steel door, anti-pry features, and robust boltwork ensure your possessions are securely protected.
Sleek and Timeless Design: The American Security BF6030 Gun Safe seamlessly combines functionality with aesthetics, featuring a polished exterior finish that complements any room or office decor. Its elegance blends with its formidable strength, ensuring your valuables are stored securely and stylishly.